The 2022 Subaru Love Promise Community Commitment Award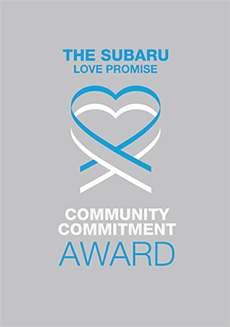 We've been nationally recognized for our dedication to our community and the Subaru Love Promise.
We're honored to receive the 2022 Subaru Love Promise Community Commitment Award. This award nationally recognizes Subaru retailers who are making the world a better place while demonstrating an outstanding commitment to supporting passions and causes in local communities. These efforts are focused in important areas such as the environment, community, health, education, and pets.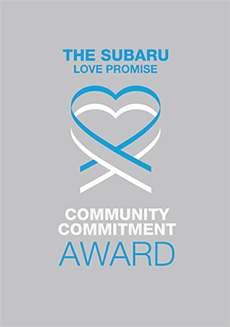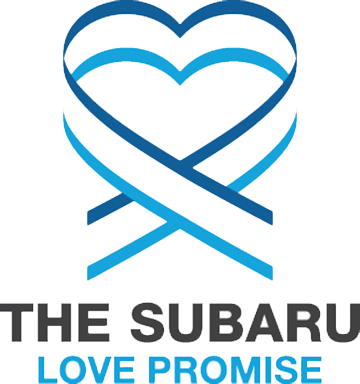 What is the Subaru Love Promise?
Subaru and our retailers believe in making the world a better place and the Subaru Love Promise is our vision of respecting all people. This is our commitment to show love and respect to our customers and to work to make a positive impact in the world.
How is Subaru of Muskegon dedicated locally to the Love Promise?
Our Love Promise can be seen in various partnerships with local charities and non-profits. We're grateful for the opportunity, not only to be a part of our community, but to serve it as well.
Heaven Can Wait Animal Haven, Pound Buddies of Muskegon, Harbor Humane Society
Battle of the Books, Sponsor a Senior 2020
Child Abuse Council of Muskegon, Salvation Army, Angel Tree, Share The Warmth Coat Drive, Muskegon County Department of Veterans Affairs, Every Woman´s Place, Parties in the Park, Momentum Center, Muskegon Rescue Mission, Ottawa County Micro-pantry
Leukemia & Lymphoma Society, Brainy Day Trail Run, Mercy Health Johnson Family Cancer Center, Multi-Sport Marathons, Ottawa County Torch Run, We Fight for Bubba 5K
Love Promise Stories from Subaru of Muskegon
Subaru and Subaru of Muskegon believe in making a positive impact on the communities in which we live and work. We uphold that belief through our Love Promise Community Commitment. Every month, we select inspiring stories from customers and partners from around our area who strive to support our collective commitment and feature them here
Eagle and Fern, Reunited! - Lana C
Thank you, Subaru of Muskegon, for your continuous community service events. You are truly lifesavers!During the Adopt a Shelter Pet month, there were countless stories of the impact your event made on the lives of not only the pets that were adopted, but also the people who adopted them. It was truly heartwarming to see the love these animals were bringing to the people who wanted and needed a pet in their lives. One of our favorite adoption stories was about two little dogs named Fern & Eagle. Back in June 2021, we received a call about two dogs spotted at the end of a dead-end road. (This particular spot is notorious for dumping dogs as it is a large, secluded, wooded area). We could tell that they were young and most likely siblings. They were very skittish and wanted nothing to do with us or our attempts to secure both dogs. This was not going to be an easy task and even worse, we were surrounded by hundreds of acres of wooded land, so we could not do anything to scare them off. We re-treated for the day and knew we had to come up with a new plan.The next day, we returned to the area and after hours of patiently sitting and gaining the trust of one of the dogs, we were able to secure the male dog. Although we were thrilled, we still had the female to secure. She was very distraught that her brother was in our care. She wanted to be with him but anytime we tried to get close to her, she ran away into the woods. Sadly, we had to retreat again for the day. We knew she was not going to be as trusting as her brother, but time was not on our side, so we had to do whatever we could to get her secured and safe. It took several more days, but hunger set in enough to where she just couldn't resist the smelly food that was waiting for her, four days into this process, we were beyond excited to see her waiting for us in one of our traps! She was finally excited to see us, still very scared, she had a sense about her that we were there to help. We named the little female dog "Fern," for the expansive ferns that she was found in, and the little male dog was named "Eagle," for the watchful eye he kept on his little sister. Both dogs received vet care and were on their way to gaining their health and weight back after being totally discarded. Fern was adopted the following month by a wonderful family who had the experience and patience she needed to continue to develop her trust and confidence in people. It was a wonderful day when she got adopted, but bittersweet because her brother Eagle was still awaiting a new home. Over the next few months, Eagle had numerous interactions with potential adopters, but he was always getting passed over for other dogs. Eagle had been a happy dog, but he eventually started to decline and show signs of stress and depression. We believe Eagle became stressed after getting passed over and he started to give up hope. Eagle started to shut down. He didn't have the energy or enthusiasm he had before. We started to become very worried.During the Subaru Adoption event, we decided to call Fern's adoptive family and see if they would be interested in fostering Eagle to get him out of the shelter. At first, they were a little hesitant because they had not planned on two dogs, and Fern was proving to be even more reserved than expected and they were nervous about any potential setbacks. After hearing about the Subaru event and talking it over with the family, they decided to give it a try and we scheduled a home visit. Eagle was going to see his sister for the first time in four months and no one knew what to expect. When we arrived with Eagle, Fern was in the backyard, reserved and somber as she normally was since being adopted. That was all about to change, and no one expected quiet the reaction we saw.As Eagle came around the fence, Fern immediately noticed her brother and as fast as she could, she ran over to him in what can only be described as "pure joy". The two dogs were intertwined for the next hour of non-stop play! Fern was literally squealing with excitement and her family had never seen Fern so happy. It was obvious to everyone that these siblings belonged together, and no one would have had the heart to separate them again. That day, Fern's family became Eagle's family. The two little dogs who had been so callously discarded were now safe and in their forever home together. Thanks to Subaru of Muskegon for promoting shelter pet adoptions, pets like Fern and Eagle are made whole again. Promoting shelter pets improves our community, our quality of life and our compassion. They don't have a voice, so we become that voice. Subaru is that voice. We have had several updates from Fern and Eagle's family. They remark how much the dogs make them laugh and how much joy they bring to the family with their playing and how much they cuddle each other. They are inseparable. Thank you, Subaru of Muskegon, for your commitment to helping our community!
---
Subaru of Muskegon helps Great Lakes Water Safety - Maria S
This past June, My Subaru of Muskegon had the honor of sponsoring The Great Lakes Paddle Challenge. This paddle board race on Lake Michigan benefitted the Great Lakes Surf Rescue Project, Inc. The GLSRP is a nonprofit corporation that is all about saving lives. The GLSRP tracks the Great Lakes drowning statistics. Sadly there have been more than 826 drownings since 2010 and 34 alone in 2021. This organization has performed over 850 "Great Lakes Water Safety" presentations and trainings since 2011. They also work with family and friends of Great Lakes drowning victims to advocate water safety, and host open water Surf Lifeguard Training and First Responder In-service Training. The GLSRP mission is to eradicate drownings by being the leader of Great Lakes water safety by providing training, public preparedness, and public awareness. The GLSRP hopes that everyone in the Great Lakes region, nationwide and worldwide, is knowledgeable, engaged and proactive in water safety with an emphasis on the Great Lakes region.
---
My Subaru of Muskegon Sends Messages of Hope - Maria S
"Cancer is big but just don't let it be bigger than you," wrote My Subaru of Muskegon Subaru Sales Manager Bill Ferry. That was just one of many "Messages of Hope" that will be sent along with a blanket directly to those battling cancer. In the past, blankets as well as art kits for patients were delivered directly to My Subaru of Muskegon and then dropped of to the Johnson Cancer Center; however, the pandemic has changed how the dealership approaches its community initiatives. Subaru of America (SOA) will mail the blankets directly to the patients' homes on behalf of My Subaru of Muskegon. My Subaru of Muskegon took the time to fill out and decorate the cards sent in by SOA. "We are so honored to be able to be part of Subaru Loves to Care and send in messages of hope to those battling cancer," said Business and Marketing Manager, Bryan Holzgen. "We would love to be able to deliver the blankets directly, but given the times we now find ourselves, we understand the need for distance. We hope and pray that these messages and blankets let those battling cancer know that My Subaru of Muskegon and The My Auto Group are with them, and thinking of them during this difficult stage in their lives." My Subaru of Muskegon staff and customers were excited to send messages of hope. It's something very small that can mean so much!
---
Veterans Food Bank - Michael B
Our County Department of Veterans Affairs operates a Food Bank for Veterans, Widows of Veterans, and Active Duty Members who are struggling to put food on the table. This is not a millage funded program; however, it is funded through monetary donations and product donations. We have upwards of 300 Veterans, Widows, and Active Duty Members coming to us for a variety of assistance and services each month. My Auto Group & Subaru of Muskegon once again hosted a Veterans' Food Bank Food Drive, as they usually do annually. Maria Secord, the Amazing Community Relations Director for The My Auto Group & Subaru in Muskegon arrived at our doorstep on May 28 with a 2021 Subaru Outback completely filled with donated food and toiletries for our Veterans Food Bank. On behalf of the hundreds of Veterans, Widows, and Active Duty Members who will benefit from generosity of The My Auto Group & Subaru of Muskegon and their customers, I humbly Thank YOU!
---
Subaru of Muskegon Moves First Dog to New Shelter - Maria S
Friday, May 14th 2021, marked a great day for both Muskegon and abused and neglected animals along the Lakeshore. Pound Buddies officially started moving dogs into the new shelter located at 3279 E. Laketon Avenue. Because of their partnership, Pound Buddies invited My Subaru of Muskegon to transport the first dog to the new shelter. Subaru pet swag consisting of Subaru leashes, collars, bandanas, and pet waste receptacles arrived from Subaru of America upon being notified of the My Subaru of Muskegon's participation in this event. Several dogs were decked out in blue Subaru bandanas. There was a small parade down Laketon Avenue featuring the Outback, The Buddy Bus, and the dog-wrapped van. "We were so honored to be asked to assist with this event," stated General Manager, Mike Kaffenberger. "We love to partner with Pound Buddies and believe in what they are doing for abused and neglected animals in and around Muskegon." The old shelter has been falling apart for some time and the new shelter has been in the works for a while. The pandemic hurt the fundraising efforts for the new shelter combined with building material issues delayed the opening. The first dog to be moved in a fully-loaded 2021 Subaru Outback was a beautiful female named Ariel. Ariel is ready for her new home, is about 4 years old, well behaved, and loves car rides. My Subaru of Muskegon team members then transported a pup named Bourbon. Bourbon loved the ride in the front seat over to the new shelter as well. Bourbon is 3-4 years old and is up for adoption. My Subaru has hosted several pet food drives for Pound Buddies and sponsored the organization for their Subaru Loves Pets initiative that happens every October. "We find ourselves in a unique position to be able to assist so many great organizations," said Kaffenberger. "This was such a great day for both My Subaru of Muskegon, Pound Buddies, and our community as whole."
---
Share The Love Check Reveal - Kim D
Every Woman's Place is here to help heal. We are here for the over 1,000 survivors of domestic or sexual violence in our community who survive violence, abuse, or assault to reach our doors for services. The burden of violence does not affect all members of society equally; women, children, seniors, persons with disabilities, BIPOC, and LGBTQ+ individuals all face higher rates of all types of violence, including domestic violence and sexual violence. We provide safe shelter when needed, offer counseling, legal advocacy and victim advocacy to support those survivors. Victim advocacy picks up where crisis response leaves off, and provides stabilization and long-term change following trauma. Through the last two years of the pandemic, our organization has been hit double: by the loss of revenue through cancelled events *and* the additional need for services for those for whom the pandemic has been an escalating factor in the abuse they face. It's especially significant that this Subaru Share The Love gift to EWP came in April, national Sexual Assault Awareness Month--a month in which EWP hosts an annual fundraiser as well as a number of important awareness and education activities that help our community understand the repercussions of violence on those who experience it and on the community itself. EWP aligns its services to remove the barriers that survivors face in changing the trajectory of their lives following violence or abuse. We bring passion, empathy, professional knowledge and are guides to healing for the survivors we serve. We believe survivors, and we work to help them know that what happened to them is not their fault; that they are courageous; and that they are resilient, valued members of our community. Subaru Share the Love is a part of that message of hope.
---
Changes Lives - Kyleen G
The Child Abuse Council provided personal safety prevention education to over 20,000 students throughout Muskegon County. Students as young as three years old in Head Start, all the way up through high school are given the tools needed to protect themselves from abuse as well as what to do if it has already happened. Children are taught that they have the right to say, "No" to anyone who tries to do anything to them or get them to do anything that makes them feel unsafe or uncomfortable. They also learn that they need to tell a trusted adult in order to get the help they need. As a result, it is not uncommon for children to come forward after a presentation and disclose to a trusted adult that something happened to them. This happens every year in many schools throughout Muskegon County. Students are learning how to use their voice to get the help they need. When a child sexual abuse victim could receive the help they need, they could become a healthy adult. Last year, after a Stewards of Children child sexual abuse prevention training, a young women came up to Deb Anderson (Prevention Director) and asked if she was still in all the schools teaching kids how to stay safe from abuse. When Deb told her she was still at it, the young women asked if she could give Deb a hug. She then said she just wanted to thank her. She said she truly felt that the programs she heard in elementary school saved her life. She disclosed that she had been physically and sexually abused as a child. She told Deb that, after one of those presentations, she decided to come forward and tell her teacher what was happening to her. She said it wasn't easy for her to tell, but the help she received afterward was immeasurable. She said she went from a helpless, hopeless child victim to become a positive and productive adult. This story is just one of many that Deb and others in the child protection field hear repeatedly. The Child Abuse Council will continue to work to provide this life saving education to children and adults in Muskegon County because of stories such as this one.
---
Subaru of Muskegon Collects Over 150lbs of Trash - Maria S
On May 2nd, Subaru of Muskegon teamed up with a group from Muskegon County Litter Clean-up and were able to collect 154 pounds of trash from around the Lakeshore Mall. The clean-up was organized by Subaru of Muskegon's Community Relations Director, Maria Secord. Several food wrappers, plastic drink containers, styrofoam food containers, plastic bags, and straws littered the area as well some other interesting litter like an old battery and several large boxes. All the debris was clearly visible driving past this area. The property is full of gullies and ponds that are home to numerous geese, ducks and other wildlife. The clean-up team also included Subaru Ambassador Bear Yovino and his two sons, Kai and Koda who came out with amazing burlap sacks provided by Subaru of America. The event also included several other youth volunteers who were eager to assist with the clean up. The environmental event held in honor of Subaru Loves The Earth was originally scheduled for April 25th but had to be rescheduled because of weather. "We were very excited to host the event and hopefully put a dent into the trash that is tossed out in this area," stated Secord. "We see so many geese, ducks and their offspring this time of year and we hope they aren't swimming around in the trash. Subaru of Muskegon and the Muskegon County Litter Clean-up crew as well as our Subaru Ambassador, Bear, wanted to come out and do as much as we could to get this area as clean as possible." The group worked vigorously cleaning for several hours on a beautiful but extremely windy day. "It's our responsibility to take care of our environment," said Secord. "This lovely area is right in Subaru of Muskegon's backyard and we need to be mindful of our impact on the environment."
---
MIRM Books for Mr. Kraai's 2nd Graders - Kristopher K
I received a gift of $500.00 from My Subaru of Muskegon to purchase books for my second graders at Shoreline Elementary School, part of Whitehall District Schools, in Whitehall, Michigan. Second graders cheered when I told them about the award. I am enthusiastic about reading and I read to my students daily, not because my education classes told me to do this, but because my parents read to me daily, and I learned the joy of reading, which I want to develop in young people. The new books mean that I will be able to introduce new books to second graders, will be able to engage in exciting read alouds, will be able to share new books for students to read in class, and will be able to allow students to take books home for students, parents, and grandparents to read together. The new books will help me to foster a passion for reading in second graders. The gift of books is significant for second graders. Kids naturally get excited to read new books. Reading builds vocabulary, helps kids learn how language works, and is the skill that truly makes all learning possible. Second graders will be able to take new books home to read with parents and grandparents too! This builds relationships and kids find it easier to talk about their own stresses and feelings when they see how characters respond in books and stories. New books will help kindle a passion for reading and will help our kids become passionate readers and lifelong learners. Thanks for caring about kids, parents, teachers, and communities. Here for Kids, Kristopher Kraai Second Grade Teacher Shoreline Elementary
---
MIRM Books for a Favorite Teacher Program- Kathy B - Kathy B
Thank you, THANK you, THANK YOU, Subaru of Muskegon, Michigan for participating in the March Is Reading Month 2021 Books for a Favorite Teacher Program. I had goosebumps galore when I learned that I was chosen as one of the recipients of the generous $500 classroom book reward…WOW! What a special treat to be able to select so many new fiction and nonfiction book titles for our classroom library. There is nothing like a new book to foster the love of reading! The ordering and shipping went quickly and smoothly and the books are already in the hands of my 3rd Graders! My students are absolutely thrilled to dive into the new books! Priceless smiles for miles! Your investment will positively impact readers for years to come in Team Britton. I greatly appreciate your involvement in our local community--YOU are truly difference-makers! With much gratitude--Kathy Britton 3rd Grade Teacher at Holmes Elementary, Spring Lake Public Schools
---